Fortescue boss Andrew Forrest set to stick with sharks as energy price crisis bites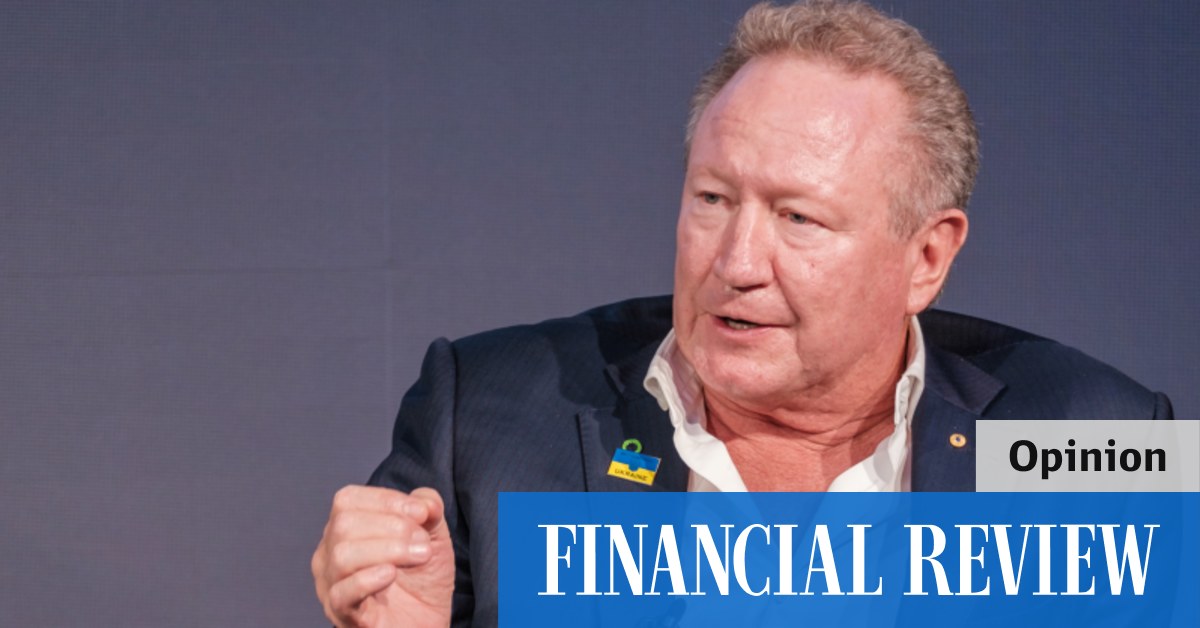 Forrest even criticized the Scarborough-Pluto liquefied natural gas project in Western Australia, which at $16.5 billion would be Australia's biggest resource investment in nearly a decade. No billionaire campaigned against its Pilbara mines in the 2000s.
Forrest must be the highest paid lobbyist in Australia. What the article failed to mention is that he wants higher fuel taxes imposed on the mining industry. The money – possibly $50 billion – would be used to subsidize purchases of hydrogen produced by Fortescue Metals, of which he recently named himself executive chairman.
Hydrogen would be produced by solar or wind energy, and would therefore contribute to the fight against global warming.
"Vanity Project"
As admirable as Forrest's mission to save the world may be, some investors fear it may be a vanity project.
"While GMF [Fortescue Metals Group] stated that the capital allocation to FFI [Fortescue Future Industries] will continue to be 10% of NPAT [net profit after tax]some market players are concerned about the competition between the company's decarbonization and renewable commitments and shareholder returns," unnamed analysts at Macquarie Group wrote last month.
Forrest listens to criticism. After publishing an article titled "Andrew Forrest is no god" last month about his hydrogen ambitions, he called me with his comments.
I was driving my 14 year old daughter home from netball practice. I hoped she would be impressed that her father was able to talk to the richest man in Australia. She expressed no feelings.
The conversation was confidential, which means it cannot be reported. But it's no secret that Forrest mixes easily with politicians, decision makers and journalists, and his charm, wealth and good humor make him a forceful, if not linear defender.
"I'm doing this because I believe in the future of Australia and the future of my children," he told the Canberra timetables. "And I can say to all the fossil fuel executives, 'why are you doing what you're doing?' You will have to answer: "Because I am paid".
There's nothing immoral about selling fuel, and if Forrest attacks the energy industry in the press like that, imagine what he says to ministers in private.
The election of the new government is likely to trigger a turning point in energy policy, and it seems that Forrest wants to break through the sudden and unexpected boost in confidence in the gas and coal industries.
Energy opportunity
If you follow the news, you might get the impression that there is an energy crisis. Undoubtedly, Australia is experiencing a price shock in electricity, gas and coal. For the gas industry, this is not a crisis. It's an unlikely rehabilitation.
Treasurer Jim Chalmers warned last week of "very, very serious challenges in energy markets" which he partly attributed to a decade of political "chaos".
ABC's RN Breakfast program reported: "Some warn this could be the worst energy crisis in half a century." Even gas lobby chairman Ian Davies expressed concern about rising oil and gas prices, which he said were "not good for anyone".
Anthony Albanese came to power on May 21 promising to create a "renewable energy superpower", which fit perfectly with Forrest's agenda. The success of the "teal" independents and the Greens – who oppose any new coal or gas projects – has added to the hostile environment towards Forrest's competition.
In a few weeks, the whole political environment has changed. Labor's resources minister loves gas so much she wants to stop it being sold overseas. Gas shares have increased by 30% over the past year. Fortescue is down 5%.
Gas producers are desperate to push back export controls (known as gas reservations). They hope the "crisis" will speed up approvals for projects planned for years, including Woodside's Scarborough-Pluto and Santos' Barossa and Narrabri fields. Beach Energy has the Enterprise project on the Victoria coast.
Clearer picture
The political answer may become clearer on Wednesday, when state energy ministers meet with federal energy minister Chris Bowen. Much depends on how the community perceives the problem. Concerns are stoked by media coverage, but the gas industry argues the effects are exaggerated.
Spot price hikes cited in the reports affect 10-15% of sales, according to the industry lobby group. Manufacturers who have not locked in long- or medium-term energy prices have little reason to complain when prices rise.
For individuals, price increases of 18% in New South Wales and 12% in Queensland from July 1 will grab headlines, but can only reach $250 per home.
Already, gas producers plan to drill more wells, including Santos and Beach.
"The market is behaving as it should," said electrical consultant and economist Paul Sell. "With prices as high as they are now, this is inducing gas suppliers to increase supply and coal-fired power stations to bring their plants back into service."
Energy Security Board Chair Anna Collyer told the ABC this week, "We're not concerned about the electricity supply."
Even gas and coal leaders recognize that in the long term, fossil fuels must be phased out. Many are in favor of a carbon price.
Before that, there are huge profits to be made by being on the right side of this government's energy policy, whether you are a gas producer or an iron miner.